Back
Creating Value From Dental Patient Emergencies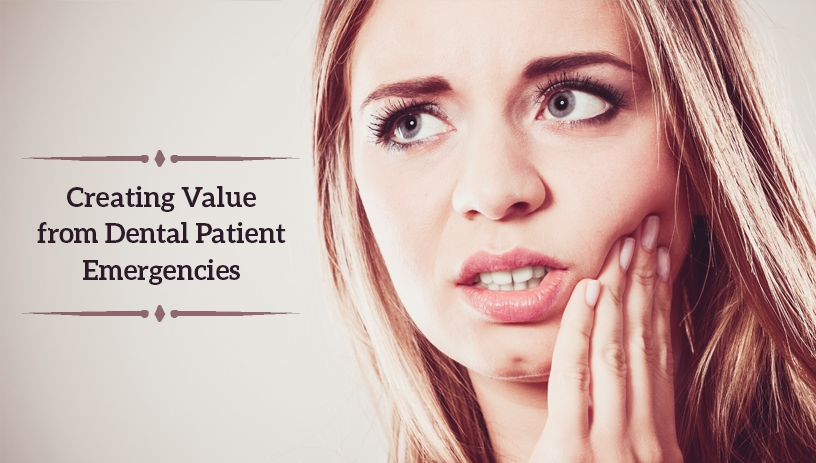 Accommodating emergency patients, whether those who have been seeing you for a long time or new prospects, can be a real challenge in our busy daily schedules. Unless you're set up to treat emergency cases on a regular basis, you are amongst a large percentage of dentists who prefer their routines not disrupted!
You may think those in pain who call the office for the first time, may not even show up once the pain subsides; or, if they come in for palliative care, they will never come back. This can be true in some cases, but you should also consider the fact that if you create a pleasant experience for them, they can become your best patients who will promote your compassionate and healing ways with other prospects. 
It's important to be receptive to dental patient emergencies and handle them with grace and finesse to improve outcomes for these patients. This will undoubtedly lead to stronger existing patient relationships and enhanced view of your caring practice for new referrals.
Although you can't control new patient emergencies, there are ways to minimize them with your existing patients of record. Make sure they fully understand the following:
The details of their treatment procedures

Risks, benefits and alternatives of their treatment 

Possible post operative complications, expectations and management

Direction on how to use prescription medications and what to expect while taking them

Written instructions and directions on how to find information on your website, or to get in touch with you after-hours. 

A lot of emergency calls or visits can be avoided with thorough and more effective communications. Sometimes a quick follow up text or call, will ease your patients' anxiety after difficult procedures, and will make them love you for caring. 
Denteractive can be an asset in communicating with a patient in an emergency. Member dentists are readily available with a tap of a button through secure text messaging and live video in real time. They can assess emergency situations and discuss cases with  patients to better establish effective and lasting rapport (Denteractive's technology is HIPAA-compliant, unlike ordinary communication tools).
Emergencies are inevitable and you don't want them to create emergencies in your schedule. Discuss with the staff when they are most likely to occur and when accommodating them would be most convenient:
Mondays are often when patients need a quick appointment because of weekend accidents 

First thing in the morning may be less busy and at the end of the day there is less pressure to finish before the next appointment.
Some practices prefer to leave time just before lunch and they can just take the break later.
Make sure your staff knows to sound welcoming and empathetic when patients call with emergencies: they are in pain and being sympathetic, rather than acting as if they are a burden, will make them grateful. Advise your staff not to discuss finances too much at this point, and to put the focus on the patient's well being.
If possible, the dentist should use Denteractive's video or texting functions to establish a caring relationship even before the appointment. This will definitely make it more likely for them to shows up. In addition, a quick follow up text by a dentist to see how his patient is doing after a big case or a tough root canal, will go a long way in creating lasting relationships.
With the new patient out of pain, don't get into too many details, lest the new patient feel overwhelmed. Give them some supportive care and encourage them to stay in touch by texting you updates about their progress, or questions about what to do next. Help them set up their next appointment with confidence that they're in great hands for their comprehensive dental  care.
Emergency calls and visits are usually not very welcomed by most dental practices, but there are ways to convert them into long-term, enthusiastic patients, that can be a good sources of referrals, and good vocal advocates of your caring practice!