Back
Find a Cheap Emergency Dentist in Your Area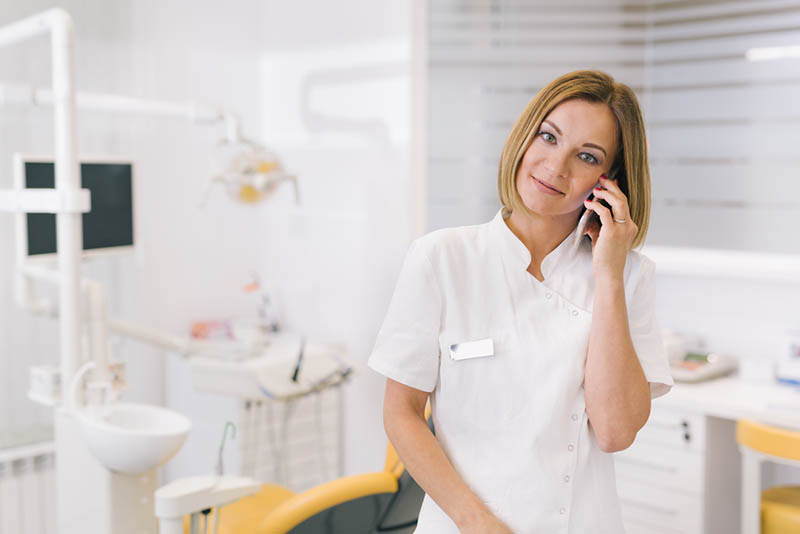 The number of people receiving dental care in the US is at an all time low. There is a large juxtaposition between  the gleaming white teeth that you see on TV and the overall dental condition of the average working man. The truth is that most of us just don't have the time to leave our jobs or our families and head on over to the dentist. For the most part, we only think seriously about tooth care when something goes wrong. In cases of sudden tooth or jaw pain, or excessively bleeding gums, you have to find advice from a cheap emergency dentist who can help you to discover the cause of your problems, and then offer you solutions.
Reach out to real dentists now
When you are looking for emergency dental advice, you don't want to waste time talking to someone unqualified. This is why you need to talk to someone at Denteractive. Our team of dentists are here to take your call. With our emergency service, we are here when you need to speak to someone urgently. Rather than having to sit at home and wait for one of your local dentists to find the time to speak to you, you can get onto the Denteractive app and start speaking with specialists immediately. We know that when you need help, you might not be in the right mood to start answering a load of questions. With our app, you're in control. It allows you to show us exactly what is wrong.

Free consultation with us
When you think that you have a dental problem which needs fixing immediately, you may want to ask our advice about it before you book an appointment with help from our team. The best way to do this, without having to do anything that hurts, is to have a visual conversation with our team. You don't even have to speak. All you need is the app. You can reach out to us through text, images, or even video. That way, we can get a good look at your teeth and tell you whether something needs to be done. We can offer you advice, give you recommendations, and even give you a free consultation about anything that is particularly troubling you. This is all possible with just a few clicks of a button.
How can we help you today?
When you come to our site looking for a cheap emergency dentist to give you advice about a particular issue, we believe that we can help you right away. You can look for available dentists near you, see what appointments or emergency bookings are available, and even keep records on the app of your previous discussions with us. If you have treatment, and then need further help in the months to come, having all of your old pictures to hand will help our team to evaluate changes in your teeth, gum-line and mouth. To start the process today, simply download our Denteractive App from the Apple store download the Denteractive App from the Apple store or go to Denteractive.com on any mobile phone or device!